Reliable site
Our website is hosted using Microsoft's Windows Azure. Azure is an open and flexible cloud platform that provides secure and reliable hosting across a global network of Microsoft-managed datacenters.
Windows Azure delivers a 99.95% monthly service level agreement (SLA) that provides automatic operating system and service patching, built in network load balancing and resiliency to hardware failure. Azure supports a hosting model that maximizes site reliability so you are assured your online tools are available when you need them.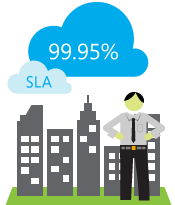 Payment processing to meet your needs
When you use our online services, we handle all the credit card processing, chargebacks, and payment details. Authorize.NET® is our payment processor and Chase Bank® is our merchant bank provider for all payment reconciliation; this assures payments for your online activities arrive safely, securely, and on time.
Support for your own payment processor
If you would like to use your own payment processor for online transactions, no problem! Our site lets you configure your own payment processor so sales revenue is deposited directly to your merchant account.