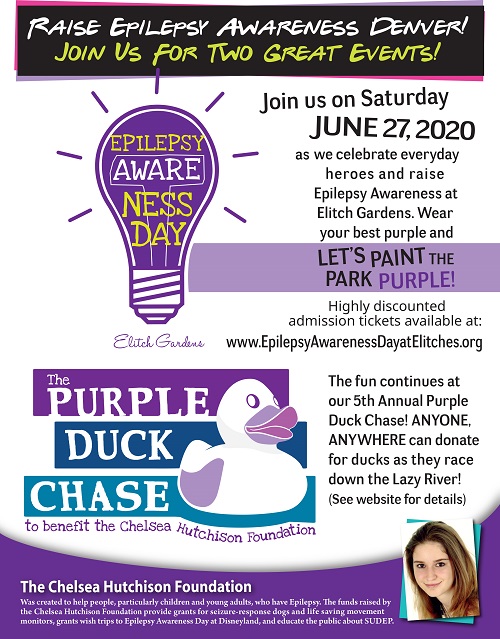 Join us for the 5th Annual Epilepsy Awareness Day at Elitch Gardens, honoring our Everyday Heroes! This is not a walk or run, just a fun day raising awareness and painting the park purple. Registration is open. Tickets are $30 per person and will include a tshirt for the event, however, we cannot guarantee tshirts or exact sizes for those registering after June 10, 2020. Also included is a Meet and Greet from 2:30 pm to 4:30 pm where we can gather at the Sunlight Patio Pavilion. Ice cream and beverages will be served from 3:00 pm to 4:00 pm. Stop by and connect with our amazing community!
We will have a table set up outside the main gate from 7:30 - 10:00 for you to pick up tickets, tshirts and tickets to the Meet and Greet. If you are not able to pick up during that time, we will have an alternative place and will announce that as we get closer.
Also happening this day will be the 5th Annual Purple Duck Chase. Those participating in the Purple Duck Chase and Epilepsy Awareness Day at Elitch Gardens 2020 will be granted early admission to the park to watch as sponsored ducks race in Elitch Garden's Lazy River. No admission into the park without paid admission or season's pass. Donate $5 for (1) Purple Duck, $20 for (5) Purple Ducks or (15) Purple Ducks for $50 (no limit). You do not need to be present to win. We will accept participation from anywhere!
Prizes will be awarded to the holders of the First, Second and Third duck to cross the finish line. At this point, prizes will be awarded as follows, however, if we have larger than expected participation, those awards will increase.
$200 Visa Gift Card 1st Place
$100 Visa Gift Card 2nd Place
$50 Visa Gift Card 3rd Place